On the Road to Justice: We are Essential, Now & Always CARAVAN
June 24 @ 9:00 am

-

1:00 pm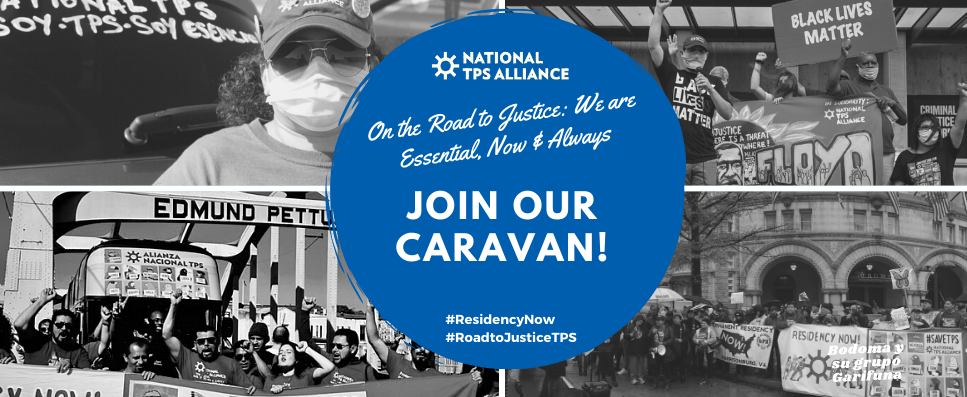 The National TPS Alliance is a grassroots organization which for 3 years, has been advocating for the permanent residency of over 400,000 beneficiaries of Temporary Protected Status from the countries of El Salvador, Honduras, Haiti, Nicaragua, Nepal, Syria, Sudan, South Sudan, Somalia, Guinea, Sierra Leone and Yemen.
Today, TPS beneficiaries, their families, friends and allies from across the country are here to raise awareness of the more than 130,000 essential TPS workers who have been in the frontlines of the COVID-19 pandemic and once again, demand that congress act now on a Permanent Residency, which has been what was always well deserved for the more than 400,000 families who face family separation in 6 months despite playing a crucial role in the country's response to this moment of crisis.
Throughout these last couple months, we have heard countless stories of our TPS community in the midst of this pandemic such as the stories of construction workers in Las Vegas, the truck drivers in Los Angeles, the meat packing industry workers in Nebraska, the poultry industry workers in Arkansas, the health care workers in the epicenter of New York; all of whom have not lost day of work. Their work has proven that TPS beneficiaries play a crucial role in this country and will continue to play this role as we begin to step into one of the most significant economic recessions in modern times.
We have also heard stories of our loved ones who have tested positive, lost their lives, and have been experiencing serious economic hardship- but despite all the hardship in these tough times, the TPS community has not ceased to become a leader and a voice for immigrant justice in the United States. Aside from being essential workers, we have also led mutual aid efforts in our communities to provide for those who have been most vulnerable and despite not having the option to meet in public spaces, our organizing efforts have continued to strengthen through virtual calls, meetings, and trainings which has kept our fight for permanent residency alive in the midst of this pandemic.
We are sending a strong message to our congressional leaders as we also stand in solidarity with all of our immigrant communities and with our Dreamers; who after defending DACA in the supreme court, have recently won an important decision which is also a victory for our own struggle.
We are also standing in solidarity with movements who in these times, are standing against racial injustice. Nationwide protests shook this country to its core, demanding racial justice and ending police violence after police in Minneapolis, Minnesota took the life of George Floyd. We have fled our native countries in moments reminescent of the state sponsored violence being used by police in this country today. In addition to living under the fear of deportation, many of our families also live in fear due to the color of their skin. This movement is our movement and we cannot remain silent. We must stand in Solidarity! Black Lives Matter!
We will stand with these communities and their fight for justice as we continue to make it clear to those in power that separating more than 400,000 TPS beneficiaries from their families in less than 6 months is an injustice, especially after the decades of contributions we have made and the important role we play in moments of crisis. For this reason, we are on the Road to Justice. WE ARE ESSENTIAL, NOW & ALWAYS.
WHAT:  Press conference as caravan of  TPS families arrive to US Senate
WHEN:  Wed, June 24 – 9am caravan begins, and 12:00pm press conference
Caravan Begins:9:00am EST @ 10100 Baltimore Ave, College Park, MD 20740
Press Conference:12:00pm EST @ Area 8 of Capitol Hill, First St SE