About National
TPS Alliance
The National TPS Alliance is formed and led by TPS beneficiaries from across the United States, combining advocacy efforts at a national level to save Temporary Protected Status for all beneficiaries in the short term and to devise legislation that creates a path to permanent residency in the long term.
There are around 40 committees across the Unites States and over ten non-profit organizations, groups and unions providing support at different levels.
Donate to Help
Save TPS
Please contribute to help cover expenses for this historic campaign. The success of this campaign depends on your on your support! Thank you.
ON THE ROAD TO JUSTICE:
RESIDENCY NOW!
Back in 2018, in the midst of the Trump Administration's racist offensives against immigrants and refugees, we made the decision to embark on "TPS Journey for Justice" to introduce our plight to communities nationwide, to call for justice for all immigrant communities, and to make the public case for permanent residency. Inspired by the Freedom Riders of the US Civil Rights Movement, we knew that the best way to defend our families and our communities was to take our struggle on the road. Today, during a global pandemic and before one of the most crucial elections in modern times, TPS holders are embarking on a second journey to demand Justice for TPS families!
TPS holders have been greatly impacted by the current moment. The ninth circuit court of appeals has recently made its final verdict on the Ramos and Bhattarai lawsuits, allowing the Trump administration to move forward with its effort to tear more than 400,000 families apart. We, the TPS community have put our lives on the line for this country, which has been evident in the midst of the COVID-19 pandemic as more than 130,000 of us have been frontline workers. We do not deserve to be facing the harsh reality of deportation in January of 2021. We deserve permanent residency!
From September 21 to November 13, 2020, the bus, famously known as "La Libertad" will once again, be travelling across the country to continue building collective power, uplifting the voices of TPS families, to educate our immigrant communities on the dangers of the COVID-19 pandemic, to motivate US citizens to go out and vote in favor of our families, and to make it clear to legislators and to every corner of the country that the lives of TPS Families ARE NOT TEMPORARY.
We are ON THE ROAD TO JUSTICE!
Scroll Down for More Info
#ResidencyNOW #TPSJustice #TuVotoesTuVoz #AllWorkisEssential #EndFamilySeparation #Road2JusticeTPS
Map of Road to Justice
Tour Route
With 54 stops in 8 weeks, and following all health protocols in the age of COVID-19, riders on "La Libertad" will be travelling across the country where they will be accompanied by TPS holders, their friends, and allies at every stop to participate in vehicle caravans, workshops, press conferences and several other events focused on building solidarity, uplifting TPS demands, educating the community on COVID-19, and getting US citizens to the vote on Election Day.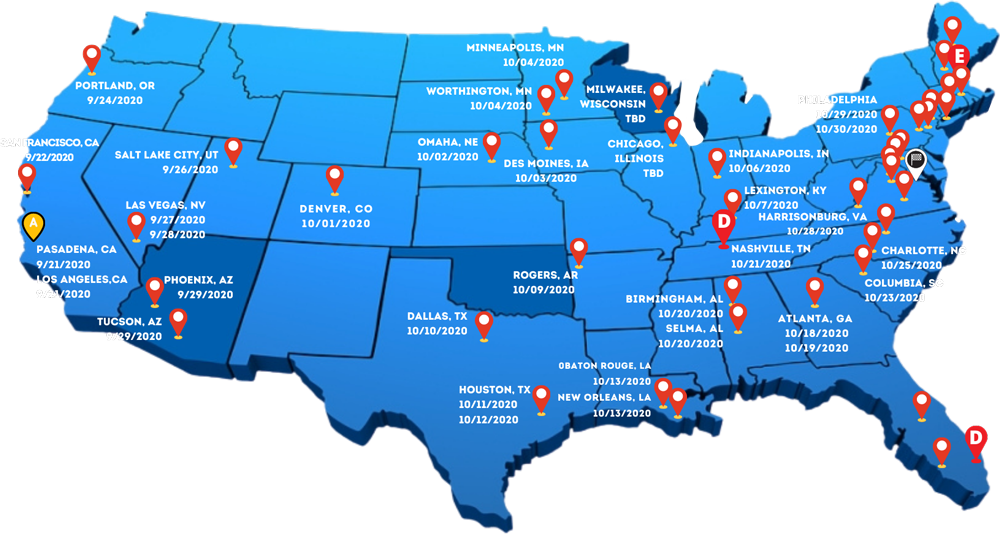 LIST OF STOPS (TENTATIVE)
Sep. 21, 2020-Los Angeles, CA
Sep. 22, 2020-San Francisco, CA
Sep. 24, 2020-Portland, OR
Sep. 26, 2020-Salt Lake City, UT
Sep. 27 & 28, 2020-Las Vegas, NV
Sep. 29, 2020-Phoenix, AZ
Sep. 30, 2020-Tucson, AZ
Oct. 1, 2020-Aurora/Denver,CO
Oct. 2, 2020-Omaha, NE
Oct. 3, 2020-Des Moines, IA
Oct. 4, 2020-Washington, MN
Oct. 4, 2020-Minneapolis, MN
TBD-Madison, Wisconsin
TBD-Chicago, Illinois
Oct. 6, 2020-Indiannapolis, IN
Oct. 7, 2020-Lexington, KY
Oct. 9, 2020-Rogers, AR
Oct. 10, 2020-Dallas, TX
Oct. 11 & 12, 2020-Houston, TX
Oct. 13, 2020-New Orleans/Baton Rouge, LA
Oct. 15, 2020-Miami, Fl
Oct. 16, 2020-Fort Myers, FL
Oct. 17, 2020-Orlando, FL
Oct. 18 & 19, 2020-Atlanta, GA
Oct. 20, 2020-Birmingham/Selma, AL
Oct. 21 & 22, 2020-Nashville, TN
Oct. 23, 2020-Columbia, SC
Oct. 25, 2020-Charlotte, NC
Oct. 26, 2020-Charlotte & Raleigh, NC
Oct. 27, 2020-Richmond, VA
Oct. 28, 2020-Harrisonburg, VA
Oct. 29 & 30, 2020-Philadelphia, PA
Nov. 1 & 2, 2020-Portland, ME
Nov. 3, 2020-Boston, MA
Nov. 4, 2020-Manchester, NH
Nov. 5, 2020-Providence, RI
Nov. 6, 2020-Hartford, CT
Nov. 7, 2020-Long Island, NY/NYC, NY
Nov. 9, 2020-Newark, NJ
Nov. 10, 2020-Morristown, NJ
Nov. 11, 2020-Baltimore, MD/Woodbridge, VA
Nov. 12, 2020-Silver Spring, MD
Nov. 13, 2020-Washington DC
Endorse the Journey for Justice