FOR IMMEDIATE RELEASE
March 12th, 2019
Contact:
Viridiana Vidal, 702-206-2110,
vvidal@ndlon.org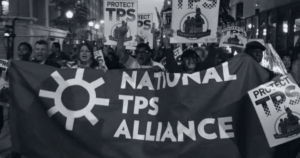 National TPS Alliance Position on TPS-DACA-DED Bill
Washington, DC – In response to Reps. Velazquez and Roybal-Allard's House bill combining TPS, DED, and DACA, the National TPS Alliance released the following statement:
"This bill is a step in the right direction. Steps must be taken in Congress to solve the humanitarian crisis created by President Trump termination of TPS, DACA, and DED. We are facing the separation of more than half a million TPS holders and their families, we ask Congress to look at our humanity and to understand the urgency of this matter for our families. For this to be a democratic process, we must take the time to study the proposal, and understand its impact in today's political context. The 60 local committees of the National TPS Alliance will analyze the bill proposal and discuss the content of the bill, what it means for migrant families living under the Trump administration, and ultimately take a position that is independent of political parties or insider politics. What is immediately clear is that the real challenge lies in advancing a bipartisan proposal. Since the TPS program was terminated, our lives have been on hold and in limbo. Now we only have 9 months left before we are permanently separated from our children. We urge Congress to leave politics aside to avoid the separation of hundreds of thousands of additional families that have built their lives in this country. There is nothing temporary about our families' lives. And no excuse to make millions more vulnerable to family separation. That should not be controversial for either side of the aisle. We must all speak up for the values that TPS holders exemplify and we all cherish," said Jose Palma, National TPS Alliance Coordinator.
Background:
On March 12, Rep. Nydia M. Velázquez and Rep. Lucille Roybal-Allard introduced HR 6, the Dream & Promise Act. The measure seeks to provide permanent legal protections and a path to citizenship for Dreamers- undocumented immigrants brought to the U.S. as children. The bill has added changes, among them the inclusion of protections for Temporary Protected Status and Deferred Enforced Departure recipients.
###
The TPS Alliance was formed in 2017 in response to the Trump administration's stripping nearly half a million TPS holders of legal status. Along with its anchor organizations – NDLON and CARECEN-LA, the TPS Alliance includes over 60 local committees in 27 states. The National TPS Alliance spurred the lawsuit leading to a federal judge blocking Trump's cancellation of TPS for El Salvador, Sudan, Haiti, and Nicaragua, and the ongoing litigation over Nepal and Honduras.