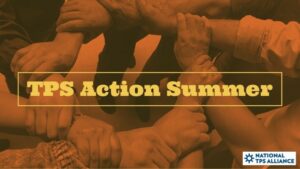 TPS ALLIANCE PROCLAIMS SUMMER OF ACTION
Countering Trump's threats and facing their own families' separations, the National TPS Alliance is organizing a summer of action and power-building
Los Angeles, Boston, New York City – On Monday, the National TPS Alliance announced a number of Summer actions aimed at strengthening their communities across the US, and fighting back against all family separations.  As Trump again zeroed-in on immigration to launch his electoral campaign, TPS communities are only months away from losing their legal status and a new family separation crisis.
"This is a call to collective action – to organize ourselves against the violence perpetrated by the Trump administration – the threats of raids, the terminating of our legal status, the concentration camps, the deaths of refugee children, and all the repressive action against immigrants and refugees.  It's time to take action," said Jose Palma, National TPS Alliance coordinator about the Summer of TPS Action.
The "Summer of TPS Action" to include: 
A sustained campaign of grassroots training and leadership development for TPS holders to continue advocating for permanent residency and  the freedom of our communities
Bi-national campaign to reunite thousands of Central American children with their TPS families under the CAM program  
TPS committees will turn their attention to state officials to ensure access to drivers licenses and identification 
A national mobilization in the lead-up to the August 14th 2019 hearing in the Ramos v. Nielsen lawsuit (re TPS for six countries) 
"While many are celebrating freedom on the 4th of July, many in the immigrant community are suffering uncertainty and fear.  But together, we can turn that uncertainty into action, a Summer of Action, so that we can all live with liberty and in peace with our families," said Esther Portillo, TPS Campaign National Coordinator.
"Together, we lose that fear, and confront any challenge," added Portillo.